Legionnaires' Disease from Hot Tubs & Swimming Pools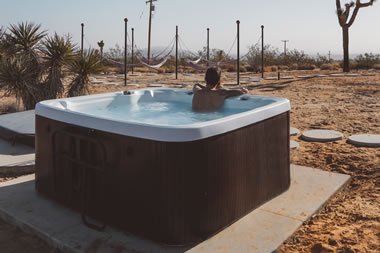 In this expert guide the water safety specialists at Legionella Control examine the potential dangers caused by Legionnaires' disease and ask whether people are more at risk from contracting this serious health condition when using hot tubs, spas and swimming pools.
Can you contract Legionnaires' disease from a hot tub or swimming pool?
For many people, the idea of relaxing in a hot tub is one of luxury – perhaps something they don't get to do that often.
However, few would associate that luxurious image with the risk of contracting the potentially fatal condition known as Legionnaires' disease.
The same would apply to those who love the thought of going for a casual swim in a pool.
Would you consider that to be a risky activity? Probably not, yet the risk of catching Legionnaires' disease could potentially be there in that scenario too.
Swimming pool and hot tub ownership is on the increase
Millions of commercial and residential properties in America have their own pools, with hot tubs also extremely popular with homeowners who have the space to accommodate them.
A similar picture is present in the UK too.
While private swimming pools outnumber hot tubs by around two to one in the UK, both are popular additions to properties when the homeowners have the funds and the space to enjoy them.
Swimming is great for health and wellbeing
The image of having a private pool at your disposal is one of health and wellbeing.
A daily swim would be good for whole body exercise, supporting the body while exercising rather than putting strain on joints and muscles.
That's not something you can say of every form of exercise.
Yet the reality is that using any swimming pool is only as safe as the care and maintenance that goes into the upkeep of that pool.
We would hope that public swimming pools are safer as they must adhere to strict safety guidelines to ensure they are always safe for people to use and enjoy.
However, there have been rare cases where an outbreak of Legionnaires' disease has been traced to a pool where levels of Legionella bacteria have proven high enough to cause illness among those using it.
Where private pools are concerned, things can be a little different.
It is up to the owner of the swimming pool to make sure it is properly and regularly maintained and tested so it is safe to use.
If not, it can quickly become dangerously overrun by legionella and other waterborne bacteria that can cause illness.
Are hot tubs a bigger Legionnaires' disease risk than swimming pools?
Hot tubs are not a place for exercise; instead, they provide somewhere to sit back, relax, and unwind, perhaps after a long day at work.
But again, there are cases where hot tubs and spa pools at gyms, hotels, leisure centres, and similar places have been found to be the centre of a Legionnaires' disease outbreak.
The risk factors for hot tubs are probably higher than those for swimming pools because of the elevated water temperatures, smaller volumes of intensively aerated water, and the creation of an aerosol or water mist.
What are the ideal water temperatures for legionella to grow?
Legionella bacteria fall into a dormant state once the water temperature falls below 20 degrees Celsius.
They die if the temperature goes above 60 degrees Celsius.
Legionella bacteria thrive when water temperatures are between 20-45 degrees Celsius
If the temperature sits between 20-45 degrees Celsius, the bacteria can easily multiply to levels that can cause problems.
Pool temperatures are typically 26-28 degrees Celsius, whilst hot tubs are usually hotter at around 37-40 C
The ideal pool temperature is typically between 26-28 degrees Celsius.
Hot tubs, meanwhile, are usually hotter, being kept at around 37-40 degrees Celsius.
You can see both these typical temperature sets sit within the danger zone for the growth of Legionella bacteria.
This makes treating the water and cleaning the system even more important than it would be if the water temperature was outside of this danger zone.
Do you need to be in the swimming pool or hot tub to be at risk from Legionnaires'?
No, you don't need to be in a pool or hot tub to be at risk from catching Legionnaires' disease, and this is something not everyone is aware of.
Legionella bacteria affects the lungs, potentially leading to the pneumonia-like illness called Legionnaires' disease.
A less-serious condition called Pontiac fever may occur instead in some people.
If the bacteria contaminates the water and an aerosol or fine spray is created, the contaminated droplets can be inhaled deep into the lungs rather than being swallowed.
This means anyone nearby could also potentially be affected if there were a high enough level of bacteria in the air.
Hot tubs create mist and steam, both of which can easily be inhaled by those using the hot tub, but also by those nearby.
Similarly, someone walking along by the side of a swimming pool could be at risk of inhaling spray created by someone splashing around in contaminated water in the pool.
Is it just the water temperature we should be concerned about?
No, there are other factors that need to be considered as well.
Like any living organism, legionella and other bacteria need a source of food to survive and grow.
In hot tubs and swimming pools, used by lots of different people each day, the food source can be rich and diverse.
Sources of food for the bacteria can include dead skin cells, strands of hair, dirt, body oils and sweat are just a few examples.
However, the water systems themselves can also cause further issues if they are not properly understood and regularly cleaned and maintained correctly.
Complex pipework, pumps and filter systems are present in both pools and hot tubs.
If these are not properly cleaned and disinfected, biofilm (slime) consisting of bacteria, scale, and other elements can build up and potentially colonise the water system.
This makes it harder still to keep the system clean and free from bacteria.
Legionella bacteria love to take advantage of biofilms for the nutrients and protection they provide.
It also makes it easier for the bacteria to withstand any dosing of disinfectant, typically chlorine or bromine that may take place.
Does this mean we should avoid using swimming pools or hot tubs – or even going near them?
No, but it does make sense to ensure we only use pools or hot tubs we can be sure are properly maintained.
Regular pool and hot tub maintenance is vital to keep the situation under control and protect people from harm.
Given the right conditions, Legionella bacteria can multiply in hours, perhaps even growing to twice the size in terms of population in just one day.
Privately owned pools or tubs should be properly maintained throughout the year.
Hiring an expert to take care of this is the best way to ensure nothing goes wrong.
Hot tubs should be drained and thoroughly cleaned on a regular basis to make sure they do not allow a build-up of bacteria or biofilm to occur.
While draining a swimming pool may not be required, proper and regular water treatment certainly will be.
This guide is not intended to frighten anyone away from using swimming pools or hot tubs.
However, it should be taken as a warning of how easily an outbreak of Legionnaires' disease could occur if the proper control steps are not taken to prevent it.
Legionella bacteria can quickly and all too easily get out of control and rapidly multiply if it is permitted to do so.
Legionella and water safety specialists
Our teams of legionella and water safety specialists support those responsible for the control of waterborne pathogens including Legionella bacteria, helping them to protect people and meet their health and safety obligations in this specialist area.
We deliver professional water safety risk assessments for legionella, pseudomonas and other waterborne pathogens, water testing, independent compliance auditing, City & Guilds training and other environmental risk management services that help keep staff and others safe.
To speak with one of our legionella water safety specialists' call us today on 0330 223 36 86 or contact us here …