Grandfather Dies After Contracting Legionnaires Disease from Garden Hose Pipe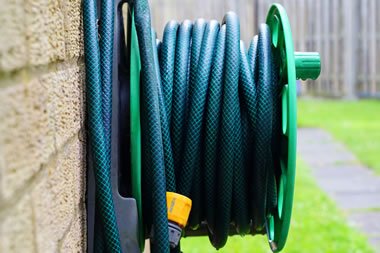 A 63-year-old man who died from Legionnaires' disease in February this year appears to have contracted it via his garden hose pipe. Stephen Clements began developing flu-like symptoms shortly after using the hosepipe in his garden. He had used the hose earlier in the year, and hadn't emptied the hose once he had finished using it. It appears the hose sat in the sun for a time, with water still inside it.
Contracting Legionnaires' disease from your garden hose
This combination of stagnant water left inside the hose and increased water temperatures would have created the perfect breeding ground for legionella bacteria which can cause Legionnaires' disease.
The bacteria exist in nature, and prefer stagnant water that is between 20 and 45 degrees Celsius. It is thought the conditions inside the hosepipe fulfilled these criteria. When Mr Clements used the hose to clean the terrace in the back garden, it created a fine spray, further exacerbated by using a broom to sweep the area. It is thought that he inhaled the spray and then fell ill shortly afterwards.
He was admitted to the Norfolk and Norwich University Hospital after contracting pneumonia, and sadly died a week later.
Is your hosepipe safe from legionella bacteria?
The local council received a request from Public Health England to take samples from the property, to try and determine whether the legionella bacteria did come from the hosepipe. These tests confirmed that legionella bacteria were found inside the hosepipe used by Mr Clements. However, there was not enough evidence to prove that was the specific strain of legionella that caused Mr Clements' death.
Legionella bacteria thrive in stagnant water that is between 20 and 45 degrees Celsius
His widow has since warned people to be more aware of the potential danger harboured by one of the most innocent-looking items in the garden.
How to minimise legionella risks from garden hoses
Both Legionella Control International and Watersafe, the UK's main accreditation body for the plumbing industry, have promoted a hosepipe safety message recently, to help people understand where the dangers lie.
They recommend a valve should be fitted that ensures no water from the hose can flow back into the mains water supply. If that water is contaminated, this could potentially introduce legionella into the home.
They also recommend garden hose pipes should be stored out of the sun, drained and left empty when not in use. When you do want to use it, water should be turned on slowly so as not to create a spray and left to flush through the hosepipe for a few minutes prior to use. It is also advisable to use a spray gun nozzle rather than any other form of attachment to minimise the danger of legionella.
World-leading legionella risk management specialists
From our offices in London, Manchester and Glasgow our experts serve clients across all regions of the United Kingdom, Europe and internationally delivering professional legionella risk assessments, independent compliance auditing, City & Guilds training and other environmental risk management services.
If you have questions about any of the issues raised above or you would like to speak with one of our specialists call us today on 0330 223 36 86 or get in touch here … contact us