A Complete Guide of Legionnaires' Disease
You've probably heard of Legionnaires' disease. We're about to discover what it is, how it is caused, and which treatments are given when someone is diagnosed with it.
Understanding the disease helps us combat it. Looking at how it is spread and caused also helps prevent other cases from occurring in future.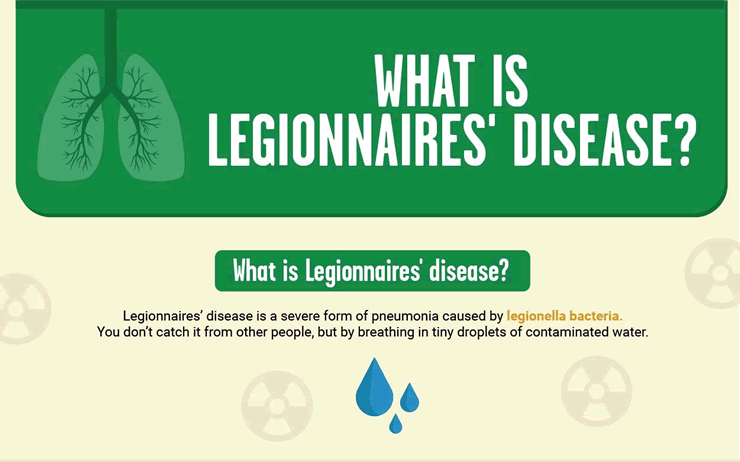 What is Legionnaires' disease?
Legionnaires' disease causes inflammation of the lungs. It is a type of pneumonia of greater severity than normal. Legionella bacteria are responsible for triggering the infection.
The same bacteria can also cause Pontiac fever. This is a milder condition. It does not progress to pneumonia and is usually self-limiting. Some people infected by Legionella bacteria may assume they simply have flu.
How does a person get Legionnaires disease?
The germ which causes Legionnaires' is a bacterium called Legionella pneumophila.
People catch it by inhaling small droplets of water suspended in the air which contain the Legionella bacterium.
However, most people who are exposed to legionella do not become ill.
Legionnaires' disease does not spread from person to person.
A Simple Legionnaires' Disease History
The disease got its name from the first known outbreak of the condition. This occurred in Philadelphia, USA, in 1976. An American Legion convention was organised at the Bellevue-Stratford Hotel. Over 2,000 members of the Legion attended.
Within days of the convention ending, five attendees had died. Six further attendees died on 1st August. All exhibited similar symptoms. In total, there were 182 cases of Legionnaires' disease connected with the convention. Twenty-nine people lost their lives.
While this is regarded as the first appearance of the disease, it is merely the first time it became widely known and labelled as Legionnaires' disease. It is thought other occurrences of respiratory disease were also attributed to Legionella bacteria. These retrospective cases can be dated to 1959.
Legionnaires' disease symptoms: What should you expect?
The symptoms caused by the disease are like those experienced when someone has flu. Muscle aches, headaches, fever, and feeling tired are all common. They typically occur between two and 10 days after exposure to Legionella bacteria.
As the condition progresses, other symptoms may appear. These are more indicative of pneumonia. Phlegm may be green. Shortness of breath may occur. Chest pain and confusion can also be experienced.
If any such symptoms appear, you should seek immediate medical help. They do not always mean you have Legionnaires' disease, but they should be checked out. If the disease is diagnosed, prompt treatment will be given to combat it.
If you exhibit symptoms of flu and you believe you may have been exposed to Legionella bacteria, do not wait to see if further symptoms develop. Speak to your GP for advice.
How is Legionnaires' disease diagnosed?
A chest x-ray will confirm if pneumonia is present in a patient. Samples of both phlegm and urine can also be taken to test for the presence of the bacteria.
Legionnaires' disease causes
Legionella bacteria is present in natural water sources. It can also find its way into manmade water systems. Low levels are not dangerous, but if the bacteria are permitted to multiply and spread, it raises the chance of one or more people being infected.
In every instance where the disease occurs, the affected person has inhaled droplets of the contaminated water supply. This occurs in mist or spray form.
How does the infection spread?
If a water source is contaminated to unsafe levels, anyone encountering that water source is placed at risk.
Any water system that produces a mist or spray poses a risk. Hot tubs and swimming pools can also be affected. The water temperature is a consideration, since legionella will multiply at temperatures of between 20-45 degrees Celsius.
Temperatures dipping lower than 20 degrees Celsius make the bacteria dormant. They are killed if the temperature goes above 60 degrees Celsius.
Many people can be put at risk of infection if water spray or droplets are emitted into the air. For example, a cooling tower may emit mist that reaches far beyond its immediate area. While workers near the tower are at risk if legionella is in the water supply, locals outside the workplace would also be at risk.
Fine mist can travel over longer distances as it is suspended in the air. Wind direction and speed can also influence how far the infection could potentially spread.
Even if the water temperature is within safe limits at the point of emission, it may rise or fall to reach the 'ideal' temperature once in the air. This should be considered when assessing the risks.
What are the risk factors and complications of Legionnaires' disease?
Some people are at greater risk of developing Legionnaires' disease. People aged 50 or over are at greater risk than younger people. Smokers are also at higher risk. This applies even to those who used to smoke but have long since given up.
Certain medical conditions also increase the risk of developing the disease. Heart disease, lung disease, and diabetes are typical examples. Anyone whose immune system has been compromised will also be less likely to fend off the effects of being exposed to the bacteria.
Can Legionnaires' disease kill?
The disease has a mortality rate of around 10%. This means that of every 100 people who contract the disease, around 10 will die. However, the rate has varied between outbreaks. Some have had a mortality rate of 5% whereas others have had a rate reaching as high as 30%. A lot depends on the age group and health of those affected.
The mortality rate is higher in cases where people contract the disease while in hospital or a similar facility. This could be because they are already receiving treatment for another condition and are already poorly.
Legionnaires' disease: Treatment and recovery
Antibiotics such as erythromycin are administered to kill the Legionella bacteria. Antibiotics are typically given before diagnosis. This ensures treatment is started as quickly as possible. In some cases, the patient may switch to another antibiotic once diagnosis is confirmed.
Many of those diagnosed with Legionnaires' disease will go into hospital to be treated. This allows the antibiotics to be delivered via a drip. This is a faster way to receive them.
Recovery may take several weeks or even months. A lot will depend on how severe the condition was when diagnosed and treatment began. If treatment began early and you did not experience severe symptoms, you may make a faster recovery.
In more serious cases, people have reported fatigue, neurological symptoms, and neuromuscular effects lasting far beyond the outbreak.
How to focus on Legionnaires' disease prevention
Preventing the disease from occurring and spreading is always preferable to treating it when it appears. This means monitoring and maintaining all water systems in buildings and other areas.
Landlords, building owners and managers have a responsibility to maintain safe water supplies. A scheme of control or water safety plan should be created to manage this process. If appropriate steps are not taken to ensure the water system (whether hot or cold or both) is safe, those responsible could be prosecuted in the event of an outbreak.
Various ways to maintain a safe water system include:
• Conducting a legionella risk assessment to note all potential risks
• Ensuring the water remains at a safe and constant temperature
• Making sure there are no dead legs in the system where bacteria could multiply
• Regularly flushing through unused or little used areas of the system
• Using equipment such as thermostatic mixer valves (TMVs) to ensure safe delivery of hot water
• Cleaning and descaling shower heads and other similar outlets every three months (as a minimum)
• Regularly checking water temperatures in different parts of the system to ensure the cold water is cold, and the hot water is hot
• Taking water samples to confirm the levels of bacteria present
• Updating the legionella risk assessment whenever necessary
These steps will help reduce the chances of bacteria spreading within the system.
The legionella risk assessment should consider all specific risks in that location. This will include any at-risk groups of people using the water system. This may include elderly people and those receiving treatment in hospital.
By focusing on reducing the risk factors, many potential cases of Legionnaires' disease can be avoided.
Legionella risk assessment
A legionella risk assessment is an important health and safety process that will protect you, your business and others from harm. In the UK it's a legal requirement for all businesses to have one.
More about Legionnaires' disease
For more information about testing water for the presence of Legionella bacteria and other waterborne pathogens … testing
Expert legionella assistance
Our teams of water safety specialists support those responsible for the control of waterborne pathogens including Legionella bacteria in the workplace, helping them to protect their people and meet their health and safety obligations in this specialist area. We deliver professional water safety legionella risk assessments, water testing, independent compliance auditing, City & Guilds training and other environmental risk management services that help keep staff and others safe.
If you have questions about any of the issues raised above or you would like to speak with one of our legionella specialists please call us today on 0330 223 36 87 or contact us here.