Pseudomonas aeruginosa – Infection, Symptoms & Treatment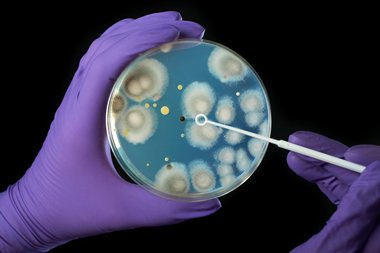 In this article the pathogen control experts at Legionella Control International take a look at the bacteria Pseudomonas aeruginosa, how it infects people, how to recognise typical symptoms once infected and what treatments are available.
Legionella & Pseudomonas
Legionnaires' disease has become far better known in recent years hitting the headlines as cases crop up around the world.
The disease can be potentially fatal and is caused by the Legionella bacteria.
Greater awareness is a good thing, as it means we can all work towards preventing the bacteria from colonising manmade water systems and causing serious illness.
Unfortunately, legionella is not the only water-borne bacteria that can be dangerous.
People should be aware of other bacteria too, along with the dangers associated with them.
Types of water-borne bacteria that can cause health problems
In addition to legionella other water-borne pathogens are also now causing concern.
Some environments are at greater risk of these than others – more commonly hospitals and other healthcare environments.
Pseudomonas is one of the most concerning of these.
Mycobacteria is another, along with Stenotrophomonas maltophilia.
We suspect many people have not heard of any of these.
We are going to use this article to explore Pseudomonas aeruginosa.
We'll discover what it is and how people can potentially become infected with it.
We'll also see the various symptoms infected people tend to present with, along with available treatments for the infection.
What is Pseudomonas aeruginosa?
Pseudomonas aeruginosa is a bacterium.
It thrives in stagnant water and in soil, so it does exist in the world around us.
It is also quite tough and capable of surviving under the harshest of conditions, and as such, it can easily infect plants as well as humans.
Most people won't experience any serious issues if they become infected with Pseudomonas aeruginosa.
However, the same does not apply if an individual has a weaker immune system or poor health in some other way.
It is understandable, then, that Pseudomonas aeruginosa is viewed as an opportunist.
Whenever it invades the immune system of someone who cannot easily fight off infection, it can threaten that individual's life.
Who is at greater risk of a serious infection from Pseudomonas?
We have seen many vulnerable people seriously affected by Pseudomonas aeruginosa, those at greater risk include:
Burns victims
People with cancer
People suffering from one or more chronic diseases
Premature babies looked after in neonatal hospital units
What types of illness can Pseudomonas aeruginosa trigger?
You may know that Legionella bacteria can cause a form of pneumonia when inhaled via mist or fine water droplets, such as spray.
However, Pseudomonas aeruginosa is more adept at causing illness in several ways.
Here, we look at the different types of infection it can trigger.
As you will see, the infection depends on the path of entry the bacterium takes to get into the body.
We'll also cover the most likely symptoms someone would experience in each case.
1: Inhaled into the lungs
This is most likely to occur in hospitals. Patients may inhale the bacterium while on ventilators, for example. Once it affects the tissues of the lungs, it can lead to pneumonia.
Symptoms to watch for:
A cough is one of the tell-tale symptoms of pneumonia. The affected patient may also develop a fever and chills. It does not necessarily present with a productive cough. Chest pain can also occur.
2: Entering the body via a wound or burn to the skin
Any kind of damage to the skin, such as a cut or burn, can supply an entry point for Pseudomonas aeruginosa to use. The damage could also be as simple as a needle put into the arm for a blood test or an IV. In this instance, the bacteria can lead to blood infections. Bone infections can also occur.
The bacterium can also find an entryway via catheters, causing a urinary tract infection in the process.
Symptoms to watch for:
Any infected burn or cut is likely to produce pus. However, in the case of an infection caused by Pseudomonas aeruginosa, you will see pus of a greenish or blue colour.
3: Entering the eyes
The most common way for this to occur is via contact lenses. All lenses must be sterile and properly maintained to be safe to use. If this is not the case, there is a chance that the bacterium could affect one or both eyes. This could cause serious infections.
Symptoms to watch for:
Vision may become impaired as the infection takes hold. The affected eye will likely become painful and pus may also be seen.
4: Thriving in moist or damp areas
Plenty of people enjoy using swimming pools or taking a dip in a hot tub. These must be kept scrupulously clean to be safe to use. The same applies to spas. Someone going into the water or being exposed to mist or spray could potentially experience Pseudomonas aeruginosa as a skin rash. Swimmer's ear can occur too if the bacterium gets into the ear, causing otitis.
Symptoms to watch for:
Perhaps surprisingly, swimmer's ear can cause headaches to occur. The affected ear will also be red and could be itchy. It may also leak fluid and the individual could feel that their ear has closed. They may also find it harder to hear out of that ear.
What about other possible Pseudomonas infections?
Anyone suffering from an infection of any kind – including one caused by Pseudomonas aeruginosa – is likely to feel feverish… lethargy is common as well.
The biggest threat from Pseudomonas aeruginosa is caused by it getting into the bloodstream.
If this occurs, it can then freely spread throughout the body, causing septicaemia or blood poisoning… it is also known as sepsis, and this is a much more serious infection.
Typical symptoms include a high fever, confusion, and shock.
If this condition is suspected, urgent medical care should always be sought.
Does Pseudomonas aeruginosa present a major challenge for hospitals?
Those responsible for handling infection control in hospitals do prioritise Pseudomonas aeruginosa.
They recognise that an outbreak could have serious consequences for those involved.
Several outbreaks have occurred in UK hospitals in the past.
Oftentimes, the source of infection has been identified as contaminated water, either in sinks or in drains.
In the UK anything from 3,700 to 4,000 cases are reported to the Health Protection Agency each year.
Greater London has seen higher incidences of infection than other areas, although it is unclear why that is the case.
Most cases there involved either elderly individuals or babies in their first 12 months of life.
One of the issues is that Pseudomonas aeruginosa can easily survive for days when transferred to all manner of surfaces.
This makes it much easier for it to spread in a hospital setting or for someone to pick it up without realising.
How can we treat Pseudomonas aeruginosa infections?
The sooner an infected person receives treatment, the better the potential outcome could be.
If someone vulnerable is infected by Pseudomonas aeruginosa, immediate care is vital if a successful outcome is to be achieved.
It is unclear what the mortality rate is for infections caused by this bacterium.
However, some studies point to rates reaching as much as one third of all those infected.
The outcome can depend on how quickly the infection is identified as being caused by this bacterium.
It also depends on which part of the body is affected and how the bacterium entered the body.
As we discovered, if it enters the bloodstream, the situation becomes far more urgent.
Antibiotics are the front line in treatment, although the bacterium appears to be resistant, at least to some extent, to several of them.
The type given would depend on the place of infection and the most suitable antibiotic for it.
In some cases, tests are performed to identify the best course of action, and one or more antibiotics could be given to combat the infection.
Maintaining a safe and clean environment
It is obviously vital to make sure all water sources are clean, safe, and treated where applicable.
Proper risk management – something that Legionella Control International can help you with – is at the centre of keeping everyone safe.
Further reading
For more information on Pseudomonas aeruginosa
How Legionella Control International can help?
As experts in the risk management of legionella and other water-borne pathogens such as Pseudomonas aeruginosa, Mycobacteria and Stenotrophomonas maltophilia we can help you devise a comprehensive Pseudomonas risk assessment and on-going management plan including City & Guilds accredited training.
To find out more about how we can help call us today on 0330 223 36 86 or get in touch here … contact us