Are Fountains & Ornamental Water Features a Legionnaires' Disease Risk?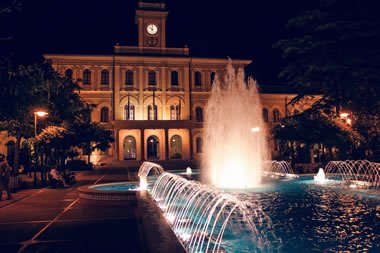 Many public areas, gardens and even large indoor communal spaces contain decorative water fountains and other ornamental water features. These range from the small and simple ones to large and impressive displays. The same water features can also be found inside, and in the grounds of hotels, business premises, schools and universities, and other commercial locations.

While such water features bring added interest and look appealing, they can also bring with them problems concerning legionella and other waterborne bacteria including the potentially serious condition Legionnaires' disease.
Are water features a Legionnaires' disease risk?
Legionella bacteria, which causes Legionnaires' disease is present in naturally-occurring water sources, but it can develop at alarming rates in fountains and ornamental water features if the conditions are right, and if they are not treated correctly.

If the premises you maintain or look after includes a decorative water fountain or other type of water feature, it is essential you are aware of the potential dangers such water systems pose to you, your colleagues and visitors.

This awareness ensures you can take appropriate steps to minimise the risks and so keep people safe.
How warm is the water in your fountain or water feature?
Legionella bacteria love water temperatures between 20 and 45 degrees Celsius.

Given these conditions, the bacteria can multiply rapidly.

If the water feature is inside a building or located outside in the sun, the water can warm up to within this range.

The addition of a pump to move the water will help to avoid stagnation, however, it may also warm the water increasing the risk levels.
Is the water stagnant?
Stagnation of the water inside the fountain is more likely to occur if the pump fails or if the water feature is turned off for a period, for example during the winter months.

This can lead to a significant increase in the levels of risk as it is far easier for legionella bacteria to grow in stagnant water than moving water.
Does water splash from the feature or is a fine water mist created?
Some decorative water features create far more movement of the water than others, especially fountains.

When someone develops Legionnaires' disease from exposure to this bacterium, it is highly likely they will have inhaled fine water droplets suspended in the air which are contaminated with the bacteria – this is the main route to infection.

This is perfectly possible if the individual is close to a water feature that creates a fine water mist or spray.

Remember, it's possible this could occur when it is windy, rather than all the time.
How clean is the water feature?
Murky or foul smelling water, green slime, sludge floating on the top or on the sides of the feature, or clogged pipes feeding the feature with water – all these elements can combine to raise the possibility of legionella bacteria and other waterborne pathogens multiplying.

Again, such conditions increase the level of risk significantly and should be addressed immediately.
Identifying the risks from Legionnaires' disease with a risk assessment
Carrying out a legionella risk assessment of your fountains and water features is the starting point in any good water safety risk management programme.

Looking at these areas will enable you to identify where the risks from legionella contamination and Legionnaires' disease lie in your fountains or ornamental water features, whether they are inside or out.

Additionally, you can consider whether a water treatment plan will help minimise any inherent risks into the future.

Regular evaluation of the water features is important, but preventative measures are also vital.

If you take the right approach to minimising the risks, you can very likely enjoy an ornamental water feature without worrying about the possibility of exposing people to the dangers of legionella and Legionnaires' disease.
What does the Health & Safety Executive have say about fountains and water features?
The UK's Health & Safety Executive provide guidance concerning the control of legionella in decorative fountains and ornamental water features in their safety guidance document HSG274 Part 3 which is titled The control of legionella bacteria in other risk systems.
World-leading legionella risk management specialists
Our teams of legionella experts support clients across all regions of the United Kingdom, Europe and internationally, delivering professional water safety and legionella risk assessment solutions, water management programs, legionella testing, independent compliance auditing, City & Guilds training and other environmental risk management services.

If you have questions about any of the issues raised above or you would like to speak with one of our specialists call us today on 0330 223 36 86 or get in touch here … contact us