Hotel Managers Guide to Controlling Legionella in Hotels – 14 Point Checklist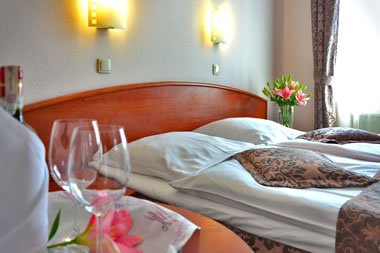 The overwhelming majority of hotels will never experience an outbreak of Legionnaires' disease. However, the only true way for hotel managers, general managers, engineers and their staff to prevent such an outbreak is by understanding how it may happen, what the disease is, and how Legionella bacteria can be prevented from spreading in a hotel environment.
This article takes a look at the disease, typical symptoms and how it is contracted; it then goes on to provide useful information and practical guidance for owners and managers of hotels and other hospitality facilities concerning the management and control of legionella and Legionnaires' disease.
A version of this story highlightinh practical steps hotel managers can take to control the dangers from Legionnaires' disease first appeared in Legionella Control International's newsletter. To get it in your inbox, sign up for free here.
Legionnaires' disease is preventable in hotels
Health and safety regulators around the world now recognise that the risk of Legionnaires' disease is preventable if the correct control procedures are followed.
It's therefore vital that every hotel has an active programme in place to control the growth of legionella bacteria and so ensure the safety of their employees, guests, other people and the hotels reputation.
Concerned about Legionnaires' disease and Covid-19 lockdowns?
If you are concerned about Legionnaires' disease and the increased risks that Covid-19 lockdowns may have caused, download our latest guidance for hotel engineering teams.
The European Legionnaires' Disease Surveillance Network
Useful reading – The European Legionnaires' Disease Surveillance Network (ELDSNet), in their operating procedures document provide a very useful 14 point checklist for reducing the risk of Legionnaires' disease and we've included extracts from it at the end of this article.
•    What is the European Legionnaires' Disease Surveillance Network?
What is Legionnaires' disease?
Legionnaires' disease is a type of pneumonia that may develop when someone encounters Legionella bacteria.
The bacteria can cause a serious lung infection, and if the infection spreads without treatment, it can sometimes be fatal.
However, around 85 to 90% of those infected do recover after treatment.
Some people are particularly prone to it, such as the elderly, those who are already ill, and those who drink or smoke.
•    Learn more about Legionnaires' disease
Symptoms of Legionnaires' to be alert for, and how these lead to a diagnosis
Initially, the Legionnaires' presents with symptoms like those of flu.
These include headaches, a fever, tiredness, and muscle aches and pains.
Later, you may experience symptoms like those of pneumonia, such as shortness of breath, and a productive cough.
If you suspect you might have been exposed to Legionella bacteria, visit your doctor and let them know where you have recently been.
Any travel, whether in the UK or abroad, could help indicate where the bacteria was encountered so preventative measures can be taken to stop further infections.
How do you catch Legionnaires' disease?
People usually catch Legionnaires' disease from infected water droplets that are inhaled deep in to the lungs.
This could be via the water mist from an infected shower outlet, the spray from a water feature or the fine water droplets from a cooling tower, or a hotel hot tub to give a few examples.
If hotels, businesses and locations with a water system present are properly maintained, there should be no associated risk of developing Legionnaires' disease from that location.
Where are the main legionella risks in a hotel?
Since Legionella bacteria can contaminate water droplets, any part of a hotel that has water present carries a risk of people being exposed to the bacteria should it be present.
Not all legionella risk areas are obvious, such as shower heads and taps… others are less obvious, such as those mentioned below:
Indoor fountains and water features

Whirlpool baths, spa pools, hot tubs, and similar attractions

Cooling towers and air conditioning anywhere around the hotel grounds

Condensers

Food displays that use humidified air

Misting and irrigation systems
Where can legionella multiply if left untreated?
If left untreated or even poorly treated, any part of a water system can be prone to legionella contamination and proliferation.
If the temperature is within the ideal 20–45- degrees Celsius (68-113 Fahrenheit) range, there is a greater chance of this occurring… the warmer the water is, the greater the legionella risk.
Water pipes that are irregularly or never used are also at risk, as are all pipework and parts of the water system (hot or cold) that are corroded, contaminated with dirt, or covered in biofilm, which presents as a slime coating.
It's not just pipework and tanks that are at risk either, rubber seals, washers, water heaters, and pipework in all parts of a hotels water system can be at risk of a build-up of bacteria.
Reducing the risk from Legionnaires' disease in hotels
The risk of Legionnaires' disease can certainly be minimised in hotels and hospitality environments if certain steps are taken.
For example, one named person, often referred to as the responsible person should take overall responsibility for controlling the risks from legionella within the hotel.
While this person should be properly trained and suitably competent to take on this role, other hotel staff should also receive legionella training to ensure they understand how they can reduce the risks.
•    Learn more about our fully accredited legionella training courses for hotel staff
What other steps should be taken to control risks from legionella?
Cold water in the hotel should be kept cold, in the UK this should be at or below 20 degrees Celsius. Alternative standards in other countries may look to achieve 25 degrees Celsius as a maximum. Where these temperatures can't be achieved because of local conditions, other suitable disinfection treatments should be used and supported by regular legionella testing at least every three months.

Hot water should be kept circulating to prevent stagnation, it should be stored at a minimum of 60 degrees Celsius and distributed so it does not drop below 50 degrees Celsius.

All water outlets, including showers, baths, and sink taps, should be run (flushed) regularly – a minimum of weekly in hotel rooms not in use, and before rooms are occupied.

Descale, clean and disinfect all water outlets regularly and check for the build-up of scale which should be removed.

Cleaning and disinfecting the following parts of the hotel water system should also be undertaken regularly:
Cooling towers and all relevant pipework – six-monthly minimum, more frequently if you suspect there are problems.

Air conditioning systems pipework – six-monthly minimum, as above.

Water filters – monthly, or minimum four times a year.

Hot water heaters and hot water storage tanks – annually.
Chlorine or other suitable disinfectants should be used in the proper concentration to disinfect cold water tanks when checked, if showing signs of contamination or deposits.
Chlorine can also be used to treat water heaters that have been repaired or maintained, and before the busy season begins.
Checking, maintaining, and treating spa pools, hot tubs, and similar facilities that use water is also vital to prevent the growth of Legionella bacteria and risks from Legionnaires' disease.
Do also check the latest legal requirements for inspection and maintenance to avoid a build-up of Legionella bacteria, to ensure you follow the correct procedures in your hotel.
This could include monthly inspections of cooling towers, storage tanks and distribution pipes to ensure everything is in order.
New installations or modifications to the water systems should be designed to ensure correct water flows are achieved, especially during periods of high demand.
Essential record keeping for hotel managers
It's important that hotel managers or those tasked with controlling water system risks keep accurate records of the things they do to control legionella and Legionnaires' disease.
This could include details of the roles, responsibilities and competence of the people involved, the results of tests, routine inspections, control measures you've implemented, staff training, details of your legionella risk assessment and any updates.
Without these records it's difficult to manage the effectiveness of what you do at the hotel, and also demonstrate to the regulator that you are taking reasonable precautions to control the risk.
Do you need to carry out legionella testing?
While it is not a legal requirement to test for legionella, it is the best way to monitor the presence of the bacterium within a hotel setting.
If you wish to conduct legionella tests, it is best to hire a professional company such as Legionella Control International to ensure the water testing is done to the highest standards, and thus will provide you with accurate results and on-going technical support and advice.
•    How to check your water for legionella contamination
Further advice and expert support for the hotel and hospitality sector
For further advice and support about specific control measures required to manage the risks from Legionnaires' disease in hotels and the hospitality sector please contact our hotel specialists on 0330 223 36 86 or get in touch here … contact us
Reducing the legionella risk – 14 point checklist
Extracted from the operating procedures published by The European Legionnaires' Disease Surveillance Network (ELDSNet).
Whilst this checklist provides general guidance to hotel operators you should always check your local standards to ensure you meet any country specific requirements.
For example, in the UK these are set by the Health & Safety Executive in their ACOP L8, HSG274 and HSG282.
It is important to remember that the risk of Legionnaires' disease can be minimised by actions taken by hotel staff.
Any hotel that does not have an active programme to control the growth of Legionella bacteria is negligent in ensuring the safety of their staff, guests, visitors and others.
This programme of legionella control should include the following:
Have one named person responsible for legionella control – the responsible person.

Ensure the named person is trained in the control of legionella and other staff are trained to be aware of the importance of their role in controlling legionella.

Keep hot water hot and circulating at all times: 50oC – 60oC (too hot to put hands into or under for more than a few seconds)
Keep cold water cold at all times throughout the system. It should be maintained at temperatures below 25oC (in the UK temperatures should be at or below 20oC). Where these temperatures cannot be achieved due to local conditions, suitable alternative residual disinfection procedures must be used and supported by regular (at least quarterly) testing for Legionella. Residual disinfection procedures that have been used include chlorine dioxide and copper/silver ionisation.

Run all taps and showers: in guest rooms run for several minutes at least once a week if they are unoccupied and always prior to occupation.

Keep shower heads, hoses and taps clean and free from scale.

Clean and disinfect cooling towers and associated pipes used in air conditioning systems regularly – at least twice a year.

Clean and disinfect water heaters (calorifiers) and hot water storage tanks at least once a year.

Disinfect the hot water system with a high level (50mg/l) of chlorine for 2-4 hours after work on water heaters and before the beginning of every season.

Clean and disinfect all water filters regularly – every one to three months.

Inspect water storage tanks, cooling towers and visible pipe work monthly. Ensure that all lids and insulation are intact and firmly in place.

Inspect the inside of cold water tanks at least once a year and clean. If they contain a deposit or are otherwise dirty, disinfect with 50mg/l chlorine for a minimum of 1 hour.

Ensure that system modifications or new installations do not create pipe-work with intermittent or no water flow or insufficient capacity to cope with surges in requirement.

If there is a spa pool (synonyms – whirlpool spa, "Jacuzzi", spa bath; hot tub) ensure that:
it is continuously treated with a minimum of 2-3mg/l chlorine or bromine and the pH is maintained at 7.0-7.6 and the levels are monitored at least three times a day. For UK specific guidance refer to the Health & Safety Executive document HSG282.
at least half of the water is replaced each day
sand or diatomaceous earth filters are back washed daily the whole system including the balance tank is cleaned and disinfected once a week
daily records are kept of all water treatment readings, such as temperature, pH and  chlorine concentrations and ensure that any measurements that are outside of those specified have been acted upon and are checked regularly by the manager.
For UK specific guidance on the management of spa pools and hot tubs you should refer to the Health & Safety Executive document HSG282.
A full copy of the ELDSNet operating procedures can be downloaded here >>