Can You Get Legionnaires' Disease from a Shower?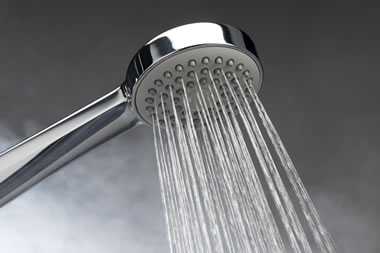 In this expert water safety article, the legionella specialists at Legionella Control International answer one of the most frequently asked questions we hear… can you catch Legionnaires' disease from a shower?
The article looks at why some showers can be more dangerous than others, how they become contaminated with bacteria; and what you can do to keep your shower clean and safe to use.
A version of this story asking if you can get Legionnaires' disease from a shower appeared in Legionella Control International's newsletter. To get it in your inbox, sign up for free here.
Can you really catch Legionnaires' disease from showers?
Legionnaires' disease is a serious lung condition similar to pneumonia and is caused by Legionella bacteria. While legionella is a bacterium that occurs naturally in water sources around us, it can also infiltrate manmade hot and cold water systems. Fortunately, there are ways to prevent the bacteria taking hold in these systems. However, if certain procedures are not followed, it is possible for individuals to contract Legionnaires' disease – and yes, this can happen when using an affected shower.
Are some showers more of a Legionnaires' risk than others?
That said, some showers are more likely to be at risk than others. For example, if you have a shower at home, you're unlikely to catch Legionnaires' disease from using it if it's regularly in use. If you go away on holiday for a couple of weeks though, it is a good idea to flush it through when you get back home, and certainly before you use it again. This will help get rid of any bacteria that have had the chance to grow while you were away.
Before you start to flush your shower, it's a good idea to open any windows to ventilate the room, then tie a loose fitting plastic bag around the showerhead to reduce the chances of spray. When you're ready, turn the shower to full-hot, and leave the room while it is running, so you don't breathe in any of the water vapour created. Leave the shower running for between 5-10 minutes to ensure it's thoroughly flushed.
How do showers become contaminated with Legionella bacteria?
How showers become contaminated with legionella provides a clue to why some showers maybe at greater risk of being infected by larger numbers of the bacteria than others. Some buildings may have showers that are infrequently used. Hospitals, care facilities, hotels, and even gyms or similar premises could all potentially be at risk of having dangerously contaminated showers because of a lack of use.
The key element in keeping people safe is to keep bacteria at low levels, certainly below the trigger levels set by the safety regulators. In the UK this is the Health and Safety Executive.
Certain scenarios or processes involving water may allow the bacteria to grow and multiply throughout a plumbing system. For example, a shower that is not often used will be more likely to contain stagnant water, perhaps in the shower head and perhaps in the pipework that leads to it. This lack of use may also allow sludge and sediment to form in the pipework. Legionella bacteria needs a source of nutrients to develop and spread, and this sludge is perfect for this.
Limescale is another hazard, especially when a building is in an area known for having hard water. If this is an issue, descaling should always form part of the maintenance approach as this will help minimise the build-up of scale and the amount of sediment inside the pipes.
The solution is a simple one though. If the shower head and pipework are cleaned, descaled and regularly flushed through, either by frequent use or by flushing the system at regular intervals, bacteria will find it difficult to take hold as they are washed out, as are any nutrients that require stagnant water to grow.
That said, flushing the water system is only part of the process of protecting people from Legionnaires' disease when using a shower. For instance, many buildings will have water storage tanks that feed showers and other outlets in the building. The water tank must also be kept clean and free from debris and sediment. Regular inspections and cleaning routines will help tick this box. It is vital that the lid to the tank is insulated and fits properly, as a loose lid would increase the chances of any items such as dust or dirt falling into the water. All these measures help to reduce the amount of 'food' that's available for Legionella bacteria to thrive on.
Water temperature is important when controlling legionella
Legionella bacteria do best when provided with water that is between 20-45 degrees Celsius. When the water temperature goes below 20 degrees Celsius, the bacteria start to become dormant. If the temperature reaches 60 degrees Celsius or above, they will be killed. It is therefore important to make sure the temperature of any stored water does not fall into this danger zone.
Legionella bacteria can thrive in water temperatures between 20-45 degrees Celsius
In the case of showers, water serving the shower should be stored at 60 degrees Celsius, dropping to a minimum 50 degrees Celsius (55 degrees Celsius in healthcare) at the shower head. This ensures that Legionella bacteria are killed before entering the shower. Special valves called Thermostatic Mixing Valves or TMVs may also be required to protect vulnerable people from the effects of scalding.
Regular flushing and disinfection of showers is essential
If you think of a hotel, for example, there may be certain times of the year when it is not fully occupied. Unused bathrooms should therefore be the target of a regular programme of flushing for taps, showers and other water outlets to prevent stagnant water and the build-up of bacteria. Cleaning, disinfecting and descaling shower heads is another positive step to take. This involves removing the shower head and cleaning it with a stiff brush to remove any sediment and build up inside it. Make sure you use a proper disinfectant (and descaler in hard water areas) specifically intended for this purpose, as it will help ensure bacteria are removed from the shower head.
What is the bottom line? Frequent use of showers is essential in keeping legionella risks under control
In some cases, a shower will be frequently used, so while cleaning, disinfecting, and descaling are still good to do, they won't be required as often. In other situations, where a shower might fall into disuse, at least for a while, a plan of action should help make sure any Legionella bacteria do not get the opportunity to establish themselves. And of course, a proper and detailed legionella risk assessment should help you identify those problem areas that require special attention.
Leading legionella and water safety specialists
Legionella Control International are experienced legionella and water safety specialists supporting those responsible for the control of waterborne pathogens, including legionella in the workplace. We help businesses protect their workers, customers and others from the dangers caused by water systems, helping them to meet their health and safety obligations in this specialist area.
We are experienced water safety specialists and deliver full range of services including risk assessments for legionella, pseudomonas and other waterborne pathogens. We also offer Authorising Engineer support, compliance auditing, water quality testing, City & Guilds training and other health and safety risk management services that help keep staff and others safe.
If you would like to speak with one of our legionella specialists about improving your risk management processes call us today on 0330 223 36 86 or contact us here …