What to Do if Legionella is Detected in Healthcare Premises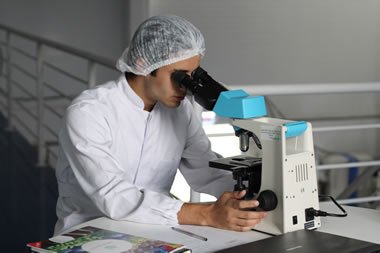 In this guide the water safety specialists at Legionella Control International look at what to do if legionella is detected in healthcare premises, including hospitals, medical centres and care homes. The guide looks at the need to maintain safe water supplies and how this can be done, the role of the Water Safety Group and Water Safety Plan, trigger or action levels for legionella testing and how positive results for the bacteria are dealt with in healthcare environments.
Legionella in healthcare premises
Legionella bacteria can cause Legionnaires' disease, a serious lung infection with similarities to pneumonia.

The disease can be fatal, while some of those who survive may experience ongoing symptoms and issues long after the original illness took hold.

Some groups in society are at greater risk of Legionnaires' disease than others.

Those aged 50 and over, those with weak immune systems, and those with certain ongoing health conditions are particularly at risk.

Hence why managing legionella in healthcare premises, including hospitals is of high importance.

Healthcare premises naturally contain individuals who are likely to be at greater risk of contracting illnesses caused by Legionella bacteria in the water systems.

The ideal scenario is for the water systems to be managed and closely monitored, so levels of bacteria remain within safe limits.

However, if levels of Legionella or other types of potentially dangerous bacteria should rise, it is vital that those responsible for dealing with the control of the water systems understand what to do to bring levels back under control to keep people safe.
Maintaining safe water in healthcare premises
Knowing how to maintain and monitor the water systems within healthcare premises is vital if outbreaks of Legionnaires' disease are to be avoided.

A Water Safety Group or WSG should be created for this purpose.

There should be an experienced and competent Authorising Engineer (Water) and a named responsible person for legionella included as part of the group.

This responsible person should also have a deputy who can step in if the named person is not present for any reason.

Other staff with specialities in infection control and medical microbiology should also form part of the group.

The idea behind the Water Safety Group is to keep the water systems safe and so prevent outbreaks of Legionnaires' disease and other waterborne illnesses.

However, if legionella is detected in such premises, it is equally vital to know how to respond in the proper manner.

Knowing what to do in advance means the right steps can be taken without delay should they ever need to be.
Creating the Water Safety Plan
The Water Safety Plan will give guidance to ensure the water safety group conforms to the Health & Safety Executives Approved Code of Practice for the control of Legionella (L8) and any other relevant water safety guidance including HTM 04-01.

Since healthcare premises do incur a risk of Legionella bacteria being present, a detailed legionella risk assessment must be conducted in accordance with ACoP L8.

This risk assessment will form an important base for the development of the Water Safety Plan.

This in turn should ensure the water systems within the premises are kept safe.

The water safety plan should also include information on flushing, descaling, water sampling, and dosing of the systems.

Proper records of all testing and control measures should also be kept on all these elements, helping to ensure the water systems are as safe as possible.

Those records can also be referred to if levels of legionella in the water do rise for any reason.

They provide a history of what has been done to maintain, monitor, and treat the systems to keep the water safe.

As such, they provide evidence and potentially clues to what might have gone wrong.
Does the local Health Protection Team need to be informed if legionella is detected?
No. If legionella counts are only slightly elevated the Water Safety Group should be able to deal with the situation and remedy it to ensure no danger is present.

However, appropriate action should be immediately taken to rectify the elevated counts.

In most cases, the health protection team only needs to be advised of the situation when specific circumstances are noted:
If routine measures taken to keep legionella under control have failed
Elevated levels of legionella have been noted within an augmented care facility
A potential cases (nocosomial) has been connected to the healthcare premises
Where routine measures taken to keep legionella under control have failed
In the first case, elevated levels of legionella would suggest the routine measures that usually work no longer do.

This highlights the potential for an escalating situation that should be contained as quickly as possible.

Legionella bacteria spread quickly under the right conditions, which points to the urgency of this situation.

One example would be if the water temperature has been allowed to sit within the ideal range for legionella bacteria to spread, i.e. between 20 degrees and 45 degrees Celsius.

Infrequent cleaning of the system may also allow nutrients to build up inside water pipes and equipment.
Where elevated levels of legionella have been detected within an augmented care facility
In the second case, augmented care is a form of care given to a patient who is often seriously ill.

It is specialised care provided within specific units rather than on a general ward, for example in an intensive care unit.

The patients within such units are more susceptible to picking up infections from legionella and other sources, purely because of their poor health to start with.
Where potential Legionnaires' cases (nocosomial) have been connected to the healthcare premises
In the third instance, a possible case of Legionnaires' disease or another condition associated with legionella, such as Pontiac fever, could potentially be attributed to the healthcare premises.

This suggests an outbreak has already begun.

It also suggests further cases could potentially arise if others have been exposed to the water source responsible.

Reporting the elevated legionella counts to the HPT would be a matter of urgency in these situations if further cases were to be prevented and the source discovered and dealt with.
Action levels following legionella sampling in hot and cold water systems in healthcare premises with susceptible patients
Legionella bacteria (cfu/l)
Recommended actions
Not detected or up to 100 cfu/l
In healthcare, the primary concern is protecting susceptible patients, so any detection of legionella should be investigated and, if necessary, the system resampled to aid interpretation of the results in line with the monitoring strategy and risk assessment.
>100 cfu/l and up to 1000 cfu/l
Either:

if the minority of samples are positive, the system should be resampled. If similar results are found again, review the control measures and risk assessment to identify any remedial actions necessary

or

if the majority of samples are positive, the system may be colonised, albeit at a low level. An immediate review of control measures and a risk assessment should be carried outto identify any other remedial action required. Disinfection of the system should be considered.

>1000 cfu/l
The system should be resampled following an immediate review of the control measures and risk assessment carried out to identify any remedial actions, including possible disinfection of the system. Retesting should take place a few days after disinfection and at frequent intervals thereafter until a satisfactory level of control is achieved.
Is there a process that could be taken by the Water Safety Group when legionella sample results are taken and tested?
Yes – the government has published guidance on this topic from Public Health England.

Responding to the detection of legionella in healthcare premises: Guidance for PHE health protection teams is aimed at those teams, yet it does provide plenty of useful information on the process.

It also includes a risk assessment algorithm that is useful to review.

If routine samples of water taken from the system show a legionella species count of more than 100 cfu/l, further advice should be sought.

The document also mentions that, 'the primary concern is protecting susceptible patients.'

It goes on to say that any incidence of legionella bacteria within the system should be investigated.

This may mean dosage requirements and/or maintenance programmes might need to be adjusted to reflect the samples taken.

It also points out the importance of resampling in areas where between 100 cfu/l and up to 1,000 cfu/l are discovered.

Remedial action could be taken if only a few samples proved positive to start with. In cases where most of the samples are shown as positive, it indicates the entire water system may have been colonised by legionella.

A full system disinfection process would be advisable in this case, even if levels have not yet reached over 1,000 cfu/l.

Another legionella risk assessment would also be required in this scenario, to identify where the current risks are and to see if anything has been missed.

It could be that something within the system has changed since the last risk assessment, creating the potential for legionella to grow and multiply throughout.
The guidance also includes a legionella control assurance checklist
This legionella checklist could be used by someone within the Water Safety Group. It is divided into seven areas:
Positive samples
Environmental systems
Risk assessment, paperwork, and maintenance
Diagnostics
Further investigation
Control measures
Communications
Each section contains several questions, guiding a health consultant or similar person through the process of learning more about the legionella risk within a healthcare premises water system.

The document ends with a glossary of terms used in it.

While the document is not intended for the Water Safety Group, it does provide useful information that could help support the group in understanding how to respond to raised levels of legionella bacteria.
Hospital and healthcare water safety specialists
Our teams of hospital and healthcare water safety specialists support those responsible for the control of waterborne pathogens including Legionella bacteria in the workplace, helping them to protect people and meet their health and safety obligations in this specialist area.

We deliver professional water safety risk assessments for legionella, pseudomonas and other waterborne pathogens, Authorising Engineer (Water) services, water testing, independent compliance auditing, City & Guilds training and other environmental risk management services that help keep staff and others safe.
To speak with one of our healthcare water safety specialists' call us today on 0330 223 36 86 or contact us here …